Geno's Garage Shipping and Returns
DOMESTICSHIPPING INFORMATION
Every effort is made to ship your order within 48 hours. Shipments should generally arrive within 10-12 business days depending upon the availability of the parts ordered, when the order is shipped and where you are located.
Shipments weighing more than two pounds are normally shipped via UPS Ground.
Shipments weighing less than two pounds are normally shipped via USPS Priority Mail.If you cannot receive mail at your address, please make note of that when placing the order.
Other shipping methods are available and will be billed accordingly. To arrange for expedited shipping please contact us at (800) 755-1715.
Some items require a shipping surcharge; any additional charges have been noted in the item description.
Actual shipping charges will apply for all areas of Alaska and Hawaii.
Customer can contact us for total prior to shipping.
UPS GROUND TRANSIT DAYS FROM GENO'S GARAGE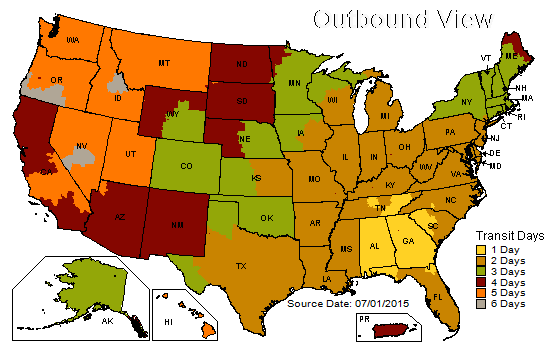 Shipping and handling charges are based on the dollar amount of your order and
are charged as follows for UPS Ground domestic shipments:
| | | |
| --- | --- | --- |
| Order total is between: | and: | Shipping Charge |
| $0.00 | $19.99 | $6.95 |
| $20.00 | $24.99 | $7.95 |
| $25.00 | $49.99 | $8.95 |
| $50.00 | $74.99 | $10.95 |
| $75.00 | $99.99 | $12.95 |
| $100.00 | $149.99 | $14.95 |
| $150.00 | $194.99 | $16.95 |
| Greater than: | $195.00 | 6% of order total |
---
INTERNATIONAL SHIPPING INFORMATION
For orders shipping to Canada, allow one to two weeks to receive your order after we ship it. Actual UPS charges or USPS charges will apply. Purchaser will be responsible for any brokerage fees incurred.
Overseas orders will have actual shipping charges applied and it is necessary for you to contact us before we will ship product to you. Due to the high cost of shipping we will confirm billing and address information first. Purchaser is responsible for any brokerage fees and/or duties.
HAZARDOUS MATERIALS
Due to shipping regulations by UPS, we can only ship products labeled as hazardous materials to the 48 contiguous states. These materials include the MOPAR interior trim paint and the additives we sell.
RETURNS POLICY
If you are not satisfied with your purchase from Geno's Garage, feel free to return the item for a full refund. All returns should be made within 90 days of the purchase (as noted on the sales invoice). Returns should be packed in the original, unmarked retail packaging and should include all accessories, hardware, manuals, documentation and registration that may have shipped with the product. Damaged or improperly-installed items are subject to a 20% restocking fee.
Complete the information on this form (PDF), and be sure to include it with your returned items. Include a copy of your original invoice, if available. Geno's recommends that you arrange for appropriate insurance and electronic confirmation of delivery, when possible and appropriate.
Return your package to:
Geno's Garage
Returns Department
1150 Samples Industrial Drive, Cumming, GA 30041
Thank you for your business.